Parent Teacher Fellowship
R
ead PTF's March 2018 Newsletter
PTF Brochure
As a spiritual and social fellowship PTF meets for the benefit of the school, staff, students, and families. Its' main purpose is to work in unity with the staff and administration of TCA to assist in securing for the students the highest advantages of a Christian education spiritually, academically, culturally, socially, and physically.

Although we encourage parents and friends to participate in the above easy ongoing fundraising programs (which go directly to PTF to help supply funds for activities and resources), the main focus of PTF is not fundraising, but rather, "Friend Raising". We welcome and encourage parent involvement at Trinity.

PTF meets on the second Tuesday of every month starting in September at 8:00 AM at the school.

Parents are also encouraged to gather every Wednesday for Prayer Time at 8:00 AM at the school!
Trinity Christian Academy's Parent Teacher Fellowship (PTF) helps with volunteers and resources for many activities at the school. Some of these include:
Lower Level Room Parents

Lower Level and Upper Level Back-to-School Parent Events in September

Upper Level Parent Representatives

Family Bowling

Christmas Program

Teacher Appreciation Week

Social Events for TCA Families

Field Day

Coffee Meetings with the Headmaster

Ongoing Prayer Support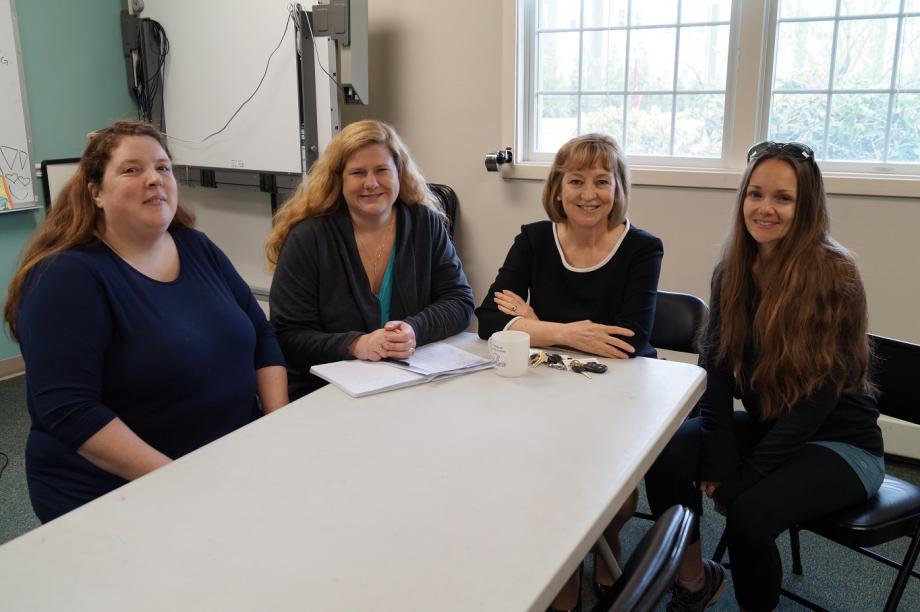 Left to Right: Jennifer Holden, 2017-2018 PTF Chair, Shannon Mott, Outgoing PTF Chair,
Peg Haskell, Director of Development and Shyla Campeau, 2017-2018 PTF Treasurer



We are looking to build our PTF Leadership Team ~

Contact Us!
CO-CHAIR (Partner-in- Crime) -
So you'd like to get more involved in the school PTF, but you're not sure you're ready to take the lead role? Our co-chair position has your name written all over it! You'll learn behind –the- scenes Intel and be part of decision making on important issues throughout the year. You'll help the chair get things done – kind of like a superhero's side kick, but without the silly costume.
SECRETARY (Fact Finder)
– Be honest – you're the one in your friend group who filled out the every page in your child's baby book...at the right time, no less. If you're the kind of person who documents everything from your toddler's first steps to how far you jogged yesterday, we have the perfect roll for you. You'll get to put your stellar recordkeeping skills and attention to detail to good use as our PTF secretary. You must have good listening and note taking skills – extra credit if you can follow what's on TV and play Candy Crush at the same time.
VOLUNTEER COORDINATOR (Social Networker)
– Are you a people person who isn't afraid to strike up a conversation with a stranger? We're looking for a volunteer coordinator to recruit helpers for PTF programs and events and help parents find the best way to plug in to our school community. If you are enthusiastic (without being high-pressure) and understanding of parents' many time constraints, raise your hand and help us do even more great things for our school!
PTF Sub-Committee Members:
·
Teacher Appreciation(May)
Jennifer Holden
jholden4@verizon.net