Thank You for Your Support ~ $32,000 Raised!
Last year we bought a beautiful school van with your help! (see photo below)

This year we raised $32,000 for NEW carpeting (it's 14 years old!) and for NEW bleachers for our athletic field.
Our theme:
Show Your School Pride ~ Inside and Out!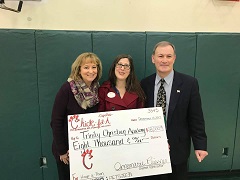 THANK YOU, CHICK-fil-A for being our Champion Sponsor with
your gift of $8,000.

We would like to thank everyone who sponsored our students!

We would also like to acknowledge and thank businesses who donated $150 to $1,000. Each of the following have a banner or poster displayed in our school's activity center/gym.

THANK YOU FOR YOUR SUPPORT!

C. Davenport, LLC.
Margo and Company Real Estate
Cedar Wood Realty Group
Rogers & Gray Insurance
Brazilian Grill
Draper Metals
Meyer Landscapes, LLC
Schulz Law Office
Eva's Cleaning Services
BT Custom Carpentry, Inc.
King's Tax Service, Inc.
Luke's Love Boundless Playground
Cambridge Mobile Telematics
Anderson Building & Maintenance
MCP Construction
Grow Glass Cape Cod
Forestdale Church
Hills Horseshoeing
CJ's Ranch
Briarpatch Pediatrics
Westgate Home Medical
W. Vernon Whiteley, Inc.
Kirby Insurance Agency
Cape Cod Pediatric Dentistry
Botello Lumber Company
Brazilian Touch Salon and Spa
Duarte Hardwood Floors
Canterberry Wellness Centre
Cape Cod Gun Works
Cape Cod Jewelry
Cape Cod Media Group
Murphy's
Chapin's Restaurant Group
Ryan Family Amusements
Last year's theme was Fast Break Finish! Thanks to YOUR support, we were able to purchase a brand new 2016 Ford Transit Student Activity van to be used for sports teams and field trips. Trinity's Hoop-a-thon also provided our P.T.F. (Parent Teacher Fellowship) with a donation of $1,000 to help support school events through-out the year. Thank you for supporting our school!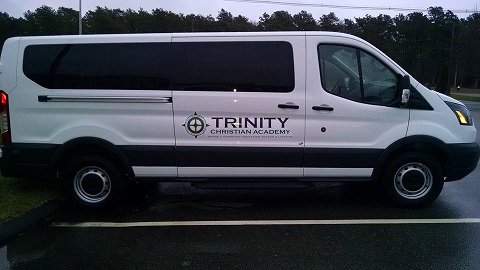 Thank you Balise Ford for working with us! Special thanks to our Business Sponsors:
Kendall and Welch Construction, Premier Cape Cod, Briarpatch Pediactrics, Kings Tax Service, Hyannis Family Medical Center, Cambridge Mobile Telematics, Westgate Home Medical Equipment, Lamberts Rainbow Fruit, Grow Glass, Rogers and Gray Insurance, Painted Red Nails, Murphys, ETS Tax Service, Back Office Associates, Island Pool Company, RHL Consulting LLC, BT Custom Carpentry, Brazilian Grill, Margo & Company, Derbyfield Kennel, Duarte's Hardwood Flooring, Rusty's Inc., Luke's Love, Bike Zone of Cape Cod, Catania Hospitality Group, and Boarding House! THANK YOU FOR MAKING THIS POSSIBLE!