College Preparatory High School Program
As a Christian School, Trinity Christian Academy (TCA) is committed to academic excellence and has the God-given responsibility to point students to the True North, Jesus Christ. God is at the heart and center of our mission.

Trinity's philosophy is very straightforward. We give students exactly what they need to succeed in college and life: biblical teaching and mentoring with academic excellence in a caring community. Click the Link below to learn more about Trinity's Graduation Requirements, Grading System, Course Offerings, Online/Dual Credit Options, Extra-Curricular Activities, Sports, and College/Career Planning.

HIGH SCHOOL BROCHURE
An Overview of TCA's High School Program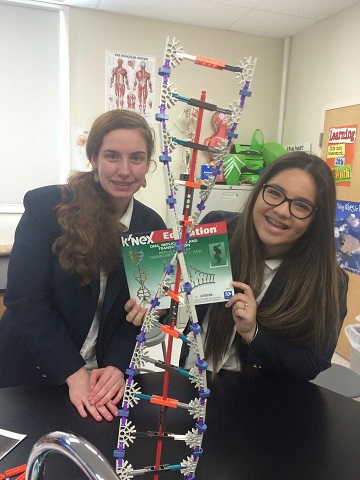 HIGH SCHOOL FACULTY BIOGRAPHIES
Rev. Sheldon Clarkson, B.S., M.A. ~ Bible, History, UL Dean of Discipline & Athletic Director
Mr. Clarkson received a B.S. in Sociology from the University of Utah, a Master's of Biblical Studies from Reformed Theological Seminary in Orlando, FL, and a TESOL Certificate from Wheaton College, IL. He taught English at the University of China and Jilin University, People's Republic of China between 2005-2008. Upon leaving China, he joined the staff here at Trinity. In addition to teaching Bible and History, he is the Senior Project Facilitator. Mr. Clarkson is the Pastor of Outer Cape Christian Church in Truro.


Mrs. Anne Fargher, B.A., M.A. ~ World Languages
Mrs. Fargher received her B.A. (Major in French and a Minor in German) from Durham University in the United Kingdom and did her post graduate studies at Salford University where she received her M.A. in Business, French and German. Her experience includes being an E.S.L. instructor in Zurich, Switzerland, on the Cape to the Brazilian community in Falmouth and a French language assistant in France. Mrs.Fargher joined Trinity's faculty in 2006 and teaches Latin to 7th and 8th grades, and high school Spanish and French. She enjoys taking her high school foreign language students to Europe.
She loves teaching teens and encouraging them in their faith.


Mrs. Karen Mackiewicz, B.F.A. ~ Art

"Mrs. Mack", as her students affectionately call her, is a dynamic teacher with more than 20 years of experience teaching grades K-12 2-D and 3-D design with an emphasis in skill building. Since joining the faculty in 2011, high school students have won 2 Gold Keys, 6 Silver Keys and 3 Honorable Mentions in the Boston Scholastic Art Contest. She developed a comprehensive skill based curriculum for grades 6, 7, and 8 for the Barnstable public school using project based assessment tools integrating art history, art discovery, art interpretation for all ability levels. She has a long and impressive resume that includes being nominated teacher of the year at Oak Ridge School in Sandwich. Mrs. Mack earned a B.F.A. in Art Education from the University of Massachusetts, Amherst and is certified to teach K-12 Art. Besides teaching at Trinity, Mrs. Mack is a practicing mural artist with work in New York, RI and MA.


Mr. Bruce Mushet, B.S. ~ Math
Mr. Mushet graduated from Mass Maritime Academy with a B.S. in Marine Engineering. His previous teaching experience includes both private and public schools. Mr. Mushet has been teaching upper level math (Pre-Algebra, Algebra I, Geometry, Advanced Math 1 and Advanced Math 2) at Trinity since 2006. He is currently working on his A.P.B. at Bridgewater State. He loves to focus his energy on helping his students succeed in the classroom.

Rev. Rick Porter, B.A., M. Div., A.P.B. ~ Bible, English, History

After 21 years as a Presbyterian pastor in Springfield, MA, Mr. Porter decided to focus exclusively on
a ministry of teaching. Prior to joining TCA's faculty, he taught at Pioneer Valley Christian School for five years, an Association of Christian School International institution. Then in 2009, he and his wife, Cindy, moved to the Cape. Mr. Porter says, "I love the students and the colleagues here, as well as the content I get to teach." At Trinity, he teaches Bible, English, and World History in Grades 8 -12.
Mr. Porter graduated from Amherst College and Gordon-Conwell Theological Seminary and recently completed a Post-Baccalaureate program in English education at Bridgewater State University. He is certified by both ACSI and the Mass. Dept. of Elementary and Secondary Education.


Mr. Andrew Taylor, B.A. ~ Music, Computers, Yearbook

Prior to joining the TCA staff in 2008, Mr. Taylor completed his undergraduate degree at Biola University in La Mirada, CA. There Mr. Taylor earned a B.A. in Music Composition, and a minor in Biblical Studies. Among his regular activities of enjoyment are participating in leading musical worship in church, popular music songwriting, recording and production, discovering valuable new music for his own and his students' enjoyment, increasing his knowledge about computer hardware & software, and discovering any occasion where technology can be used to enhance the musical process and our perception of the wonder of God's created universe. He is married to his wife, Inna, who is from Ukraine. Overall, his favorite aspect of teaching at Trinity is spending time with the students.


Mrs. Michele Willey, B.A. ~ English and History

Mrs. Willey received her B.A. in English and Psychology with a minor in History from Franklin Pierce College. She joined Trinity's faculty in 2006. Mrs. Willey enjoys teaching from a Christian worldview and being able to integrate scriptural principles and relate how God is revealed in both literature and in history. She and her husband have five children and they enjoy attending the Evangelical Baptist Church in South Yarmouth.


Mrs. Lisa Williamson, B.S., M.S. ~ Science, UL Dean of Academics & College & Career Advisor

Mrs. Williamson received a Bachelor of Science in Occupational Therapy with a minor in Classical Studies from Tufts University, where she was involved with Intervarsity as a small group Bible study leader. She recently completed a Masters of Science in Education with an emphasis in cognitive neuroscience and brain based teaching from Nova Southeastern University. She has worked as a pediatric Occupational Therapist for 31 years. Her experience includes working in specialized Children's Hospitals in San Francisco and St. Paul, and serving as Director of Therapy Services at St. David's School for Child Development in Minneapolis. Lisa is a certified Early Intervention Specialist through the Massachusetts Department of Public Health, and has been a consultant to Cape Cod Child Development Program for 20 years. Mrs. Williamson has served on the faculty of Trinity Christian Academy for 19 years and is certified through the Association of Christian Schools International. She currently teaches Life Science, Physical Science, Biology, Anatomy/Physiology, Marine Biology, Psychology and Health Concepts. As Upper Level Lead Teacher, she is responsible for overseeing scheduling of Upper Level activities and classes, as well as college planning and guidance, and administration of PSAT exams. She enjoys directing TCA Drama productions and serving as Advisor of Student Council. Mrs. Williamson lives with her husband Scott on the Lower Cape, where they have both been involved in Youth Ministry and short-term mission trips for over 20 years. Their sons Evan and Ryan are both Trinity Alumni, with fond memories of their exceptional teachers and experiences in Trinity athletics, bell choir, and regional ACSI events such as Speech Meet and Science Fair!