Announcing New 3rd Grade Teacher and Scholarship Opportunity for New 10th & 11th Grade Students
June 29, 2017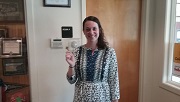 We are pleased to announce Mrs. Megan Williams as TCA's new 3rd grade teacher!
Mrs. Williams graduated from the University of Maine. Her teaching experience includes four years as a 3rd grade teacher in public school and most recently grades 5/6 at Veritas Academy. Here she is pictured holding her classroom key just after signing her contract yesterday. She and her husband live on the Cape and have two young children. Mrs. Williams is excited to join our faculty and looks forward to meeting her students in September! Welcome, Mrs. Williams!!!

Scholarship Opportunity for New 10th and 11th Grade Students!
Please Share the following information with friends who are interested in applying for 10th or 11th grade at Trinity:

Trinity Christian Academy of Cape Cod is seeking to award 10 High School Leadership Scholarships of up to $7,500 each to new students who are entering 10th or 11th grade. Students who demonstrate a commitment to academic excellence and strong leadership potential are encouraged to apply. Students will submit the Leadership Scholarship Application, take an exam and complete the admissions process. The deadline is July 31, 2017. For more information, contact Admissions at 508-790-0114 or visit www.trinitychristiancapecod.org

TCA Summer Drama Club is still Open! ($10 Fee)
Scripts will be handed out today, Thursday, June 29th along with music CDs. We will break for the 4th of July and resume next Thursday, July 6th! Rehearsal times are 3 to 4 PM. All participants will have a part in our August production of "G.T. and the Halo Express: Winning the Great Race of Faith!" If you are interested in participating, please call the school office (508-790-0114, extension 2) or feel free to email Mrs. Williamson at lwilliamson@tcaofcc.org ~ We are looking forward to a great summer production!

Report Cards, Summer Reading List, Supply List and School Calendar were all mailed. If you have not received this packet, please contact the school office. We are still waiting for the Terra Nova test results and will mail those as soon as they arrive.

Please Note Calendar Changes! Save these dates!
Pre-K and Kindergarten Meet and Greet ~ Tuesday, August 22nd 9:00 - 10:30 AM
Pre-K-6th Grade Back-to-School Night (for parents) ~ Thursday, Aug. 31st at 6:00 PM for New Families; 6:30 for All Pre-K-6th Parents
NEW THIS YEAR! UL (grades 7-12) Back-to-School Night ~ Friday, Sept. 15th 6:00 PM
In lieu of the Annual Back-to-School BBQ, the Parent Teacher Fellowship will host a social time at each of the Back-to-School Parent Nights.
Uniform Swap & Lost & Found!
If your child has outgrown his/her uniform and it is still in excellent condition, we encourage you to drop it off at the school. If you are looking for some extra TCA polos, etc. stop by and check out our Uniform Swap. Are you missing items? Check out the Lost & Found. Please claim soon. All unclaimed items will be donated to charity very soon!
The School Office is Closed Monday, July 3 and Tuesday, July 4.
Summer Office Hours are 8:30 AM - 3:00 PM.
Back