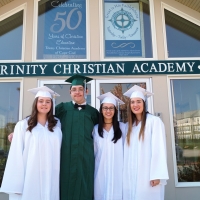 End of the Year School News
June 15, 2017
It has been a very busy last week of school!
. . .
High School Graduation on Sunday, 8th Grade Commencement on Tuesday evening, and Junior High Convocation today! The Cape Cod Times featured TCA's Graduation in Monday's paper. Here is a link to the article.
The Barnstable Patriot also featured an article this week about graduation.
Tomorrow we are looking forward to. . .
Friday, June 16th
~ Kindergarten Graduation and Convocation Pre-K and Grade 1
9:00 AM in the Activity Center
followed by
Elementary Convocation
:
Grades 2-6 at 10:30 AM
~ Dismissal at Noon.
Students will be dismissed from their classrooms ~
NO EXTENDED DAY
Don't forget to check Lost & Found before you leave for the summer!
Please make sure your child has returned library books or you will be billed.
Summer Reading and Supply Lists will go with Elementary Students on last day of school.
.
Upper Level Reading and Supply Lists will be mailed home with report cards by June 23rd.
A
Tentative
2017-2018 Calendar
is being sent home with your child. All lists and the school calendar will be posted on our
website
during the summer.
JOIN THE PTF TEAM!
PTF is looking for volunteers for the following positions:
Co-chair, Secretary and Volunteer Co-coordinator.
We are also looking for volunteers for the following:
Sub committees of PTF
:
Hoop-A-Thon ( Early September - October)
Teacher Appreciation Week (May)
Field Day (June)
We also need help with:
Assistance with school drop off and in particular,
dismissal
Photo copying assistants for teachers.
Please prayerfully consider volunteering. PTF's New Chair, Jennifer Holden is happy
to answer any questions.
Even a small task can be a great help
.
Contact Jennifer Holden at
jholden4@verizon.net
Have a wonderful and safe summer!
Please Note Summer Office Hours:
Monday - Friday: 8:30 to 3:00 PM
Closed July 3 & 4
Starting August 28: 8:00 AM to 3:30 PM
Back