Sandra Bostwick
2nd Grade Teacher
sbostwick@tcaofcc.org
Sandra Bostwick graduated from SUNY at Cortland with a degree in teaching (Grades N, K - 6) In the two years following graduation, she taught remedial reading and math to students in grades 1 - 8. After moving to the Cape, Sandra opened her own nursery school in Provincetown. Later, Sandra decided to teach in the public school, and over the next 34 years taught K, 1st grade, remedial reading, and preschool in the Provincetown Schools. Within that time period, she also became mother to a son and adopted two daughters.

Sandra shares, "I came to Trinity Christian Academy in the Spring of 2016 and began subbing in grades PK - 6. I was amazed and surprised by the positive differences in working in a Christian school versus a public setting. You can imagine my delight to be hired as the second grade teacher for the upcoming 2016 - 2017 school year. I am truly thrilled to become part of such an excellent staff and a wonderful school community that does so much for its students."
Mary Browne
Physical Education
mbrowne@tcaofcc.org
Mrs. Mary Browne earned a BS in Health Education at the University of Utah. Her experiences include being a Health and Fitness Coach, Skiing Instructor, and Program Director for a Racquetball Center. Mary loves children and has also enjoyed teaching Sunday School at her church, tutoring and teaching reading to students. She is also a Wellness Coach at the Cape Cod YMCA in Hyannis. Mary and her husband, Doug have three children.
Kelly Byrnes
Elementary Lead Teacher
4th Grade Teacher
Assist. Head of School (7/1)
kbyrnes@tcaofcc.org
Mrs. Byrnes found peace reminiscing about many of her former teachers and the profound impact they left on her heart. It was because of them that she knew she wanted to become a teacher. She graduated from Bridgewater State College with a B.S. in Elementary Education and Psychology. As Elementary Lead Teacher, Kelly Byrnes assists with curriculum development, peer mentoring, and teacher observations for grades 1-6. Kelly joined the Trinity faculty right out of college in 2005, where she taught fourth grade for a year. At the end of the school year, she decided to go back to school to begin her master's degree. Three years later, in His perfect timing, the Lord led her back through the doors of TCA and she has been teaching fourth grade since 2008. Kelly is happily married to her high school sweetheart and she is the proud mother of her son, Jacob, and daughter, Madison. When not teaching, she enjoys spending quality time with family and friends, vacationing in the White Mountains of New Hampshire where she takes pleasure in activities such as hiking, snowboarding, all things autumn, and cheering on her favorite team, the Patriots!
Jill Christian
3rd Grade Teacher
jchristian@tcaofcc.org
Jill's education and teaching experiences include Reading, Elementary Education and Special Education. She earned her Masters of Teaching from Salem State University and her Bachelor of Science (Elementary and Special Education) from Salve Regina University. She taught at Ezra H. Baker School for seven years and most recently taught first and second grades for three years at Veritas Academy (Cape Cod). Her curriculum experience includes phonics, language, and spelling using both the Abeka and Fundations programs, both of which are used at TCA. Jill resides in Forestdale with her husband and two children and they attend Grace Harbor Church. She is excited to be part of the TCA Community.
Kim Durvett
Pre-K Teacher
kdurvett@tcaofcc.org
Kim earned her B.A. from Stonehill College. She joined the TCA faculty in 2010. During her time here she has taught 1st grade, 2nd grade, tutored and administered DIBELS Reading assessments. Since 2014, Kim has enjoyed teaching 2nd grade. She has a strong background in phonics and her training includes Wilson Fundations.
Maria Figueiroa
Elementrary Portuguese

Mrs. Figueiroa teaches elementary Portuguese. She speaks fluent Portuguese. She has a MA in Clinical Counseling from Florida Christian University. She is very involved in ministry at Hope Church and her son, Daniel is an Upper Level student at Trinity.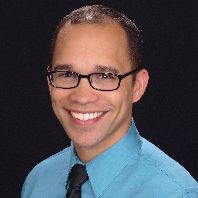 Joe Greemore
Elem. Music Teacher

Mr. Joe Greemore teaches music education from Pre-K (beginnings) through 5th Grade (ukulele method with Mr. Taylor). He serves on the pastoral staff at Brewster Baptist Church as Pastor of Worship. Mr. Greemore holds a Master of Divinity degree from Iliff School of Theology.
He and his family recently arrived on Cape Cod after moving from Mid-America (where he served as Lead Worship Pastor). Joe has a love for mission and ministry and serves as one of the Directors on the Board of International Ministries (King of Prussia, PA). He also serves on the In Pursuit of Excellence Advisory Board of the American Baptist Home Mission Society. Previously, Joe served in the United States Army Reserve from 2005 to 2013. Mr. Greemore and Mrs. Greemore (Elementary Education) have enjoyed stepping into the classroom to work with the many talented students, staff, and faculty of TCA. The Greemores have three children, Corbany, Addyson, and Greyson. They all love worshiping the Lord, making music, playing board games, and being outside (especially on Cape Cod!).
Donna Morin
Team Teacher
Grades 5 & 6
Math and History
dmorin@tcaofcc.org
Donna came to Trinity in 2014 with over 25 years of teaching experience, many of which included teaching 5th and 6th grades. Earning both degrees from Eastern Nazarene College, she holds an M.Ed in Elementary Education and Early Childhood Administration and a B.S. in Elementary Education with a minor in Special Education. Donna and her husband, Tom have two adult children: Emily, and David, who is a TCA alum. She and her family are active members of Marstons Mills Community Church. Donna enjoys family time, reading, walking, sudoko, and music.
Arlene Reed
1st Grade Teacher
areed@tcaofcc.org
Arlene Reed joined our faculty in 2013 and is certified as a teacher by Association of Christian Schools International and by Massachusetts and Missouri. She received her BA from Southeastern University in Lakeland, Florida and has over 30 years teaching experience. As a Cape Cod native from Wellfleet, Arlene has a son serving in the US Navy and a daughter who teaches Kindergarten. Arlene's teaching philosophy is best summed up in the following quote: "I believe the key components in a positive classroom environment are love and respect. Students who feel loved and accepted will achieve more and participate more in class. It is the teacher's responsibility to create a warm, nurturing atmosphere for the students. A teacher should be a model of Christianity by pouring out God's love to the children."
Kim Slowek
Team Teacher
Grades 5 & 6
Language Arts and Science
kslowek@tcaofcc.org
Kim graduated from Bridgewater State with degrees in English and Sociology. She always knew she wanted to be a teacher from the time she was 5 years old, Kim has a passion for working with young people, and over the last 20 years she has served as a volunteer in several capacities including: summer camp staff, Cub Scout Den Leader, Assistant Scoutmaster, and a middle school drama director. She lives with her husband, Chris, and two children. Their family attends Redemption Rock Church in Chatham where Kim currently serves as the Middle School Youth Group Leader and as church treasurer. Kim loves to be outdoors with her family: camping, hiking, biking, climbing and anything that allows her to appreciate God's creation!
Andrew Taylor
Grades 6-12
Music, Computers
IT Support
ataylor@tcaofcc.org
Prior to joining the TCA staff in 2009, Mr. Taylor completed his undergraduate degree at Biola University in La Mirada, CA. There Mr. Taylor earned a BA in Music Composition, and a minor in Biblical Studies. Among his regular activities of enjoyment are participating in leading musical worship in church, popular music songwriting, recording and production, discovering valuable new music for his own and his students' enjoyment, increasing his knowledge about computer hardware & software, and discovering any occasion where technology can be used to enhance the musical process and our perception of the wonder of God's created universe. Overall, his favorite aspect of teaching at Trinity is spending time with the students.
Rose joined the TCA staff in 2017 as the Pre-K classroom aide. Rose and her husband, Fausto have two children who are students at Trinity.
Marnie Trombi
Early Education Lead Teacher Kindergarten Teacher
mtrombi@tcaofcc.org
Marnie has been teaching at Trinity since 2003. She earned a B.S. in Elementary Education (Pre-K-3) from Westfield State College and earned a Masters in Reading at Gordon College in 2013. Marnie is also an associate member of the Academy of Orton-Gillingham Practitioners and Educators with an interest in helping students with reading difficulties. As TCA's Early Education Lead Teacher, Mrs. Marnie Trombi assists with curriculum development, peer mentoring, and teacher observations. Marnie loves the Lord and she loves teaching Kindergarten students! She feels she is blessed to be part of such a wonderful "family" of co-workers, parents and students at TCA!
She loves to spend time camping, walking, and traveling with her husband and son.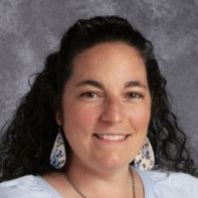 Monica Houle
Kindergarten
Teacher Assistant